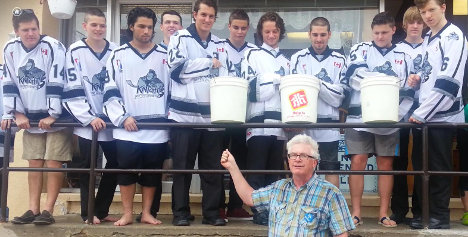 September is a time when the kids return to school, the temperatures begin to cool, and for many Canadians, the excitement of the coming hockey season is building. So what better way to kick off the Labour day weekend then with the return of the hometown Knights of Meaford?
On Saturday (August 30), Meaford welcomed back their hometown hockey club. The players marched through town from the pavilion at the harbour to the fall fair at the Fairgrounds together with our other beloved boys (in blue) the OPP, Mayor Francis Richardson, and Mayoral candidate Jim McPherson.
Mayor Richardson gave the team a warm Meaford welcome, and best wishes for the season before ordering them to Captain's Corner Fish and Chips for their baptism into Meaford society by taking the 'ALS Ice Bucket Challenge'.
The 'ALS Ice Bucket Challenge' is an event to raise money for ALS (or Lou Gehrig's Disease). Those who take the challenge must dump a bucket of ice water on their head, then nominate others to do the same.
Each player for the Knights took the challenge, and got a bucket of ice cold water dumped on their head. Even Head Coach Fish and Carey (owner of Captain's Corner Fish and Chips) got dunked. However, the best part was when the team banded together and dumped, not one, not two, but three full buckets of ice water over the head of Mayoral candidate Jim McPherson.
He must have been shocked by the ice water, because his dance after being doused was something that Fred Astaire himself would be envious of. You can see Mayoral candidate Jim McPherson's ice water dance at www.meafordknights.ca
You can also see the Knights of Meaford around town doing other charity work, helping local businesses, as well as great Meaford organizations like the Meaford Scarecrow Invasion, The Craft Show, The Santa Clause Parade, and Community Living.
The Knights of Meaford will have their home opener on Sunday, September 14th at 7:00pm, and will play their home games every Thursday night at 7 from then on after.