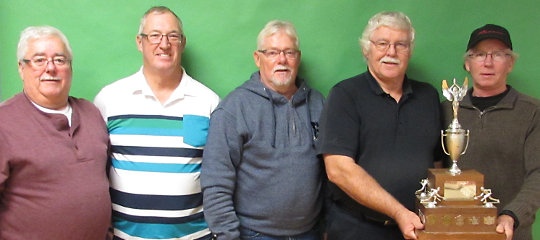 The second annual Jim Foster Memorial Senior Bonspiel was held at the Meaford Curling Club on Wednesday, December 2, with teams from Meaford, Wiarton, Owen Sound, Tara, Chesley, Allenford, and Collingwood participating.
It was a great day with some excellent curling. The first draw winner was Murray Dougherty's rink of Gary Chambers, Bryan Collins, and Cam Cleary. The winner of the second draw was the Wiarton rink of Dennis McCutcheon, Rick Holland, John Pocock, and Jim Paton, who took home the trophy as overall winners of the day.
Presenting the trophy is Wayne Foster.