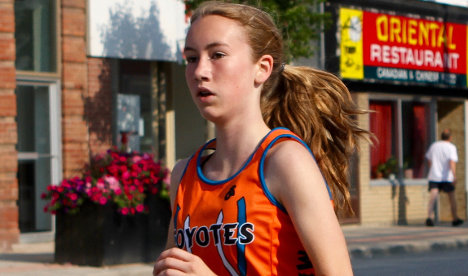 Thursday, October 29th was a cold, wet, windy, muddy and rainy day for the High School Regional Cross Country Championships.  Roughly 200 runners in each race laced up and braced the elements for the event.  
The CWOSSA Region extending from Lion's Head to Windsor has typically been the toughest region in all of Ontario to qualify for OFSSA and this year was no exception. Six of the Coyotes travelled to Bectel Park in Waterloo on a twisty and hilly course that they have all seen at least once before, so they were familiar with the loops and knew that a fast start was crucial to a successful race.
Grade 9 Michael Ruest [Meaford - GBSS] and Luc Nusselder [Port Elgin - SDSS] were the first to compete in the Midget Boys 5000m race.  Luc Nusselder had an impressive 7th place finish and missed OFSSA by one spot with a time of 18:20.  Michael Ruest was just off the pace crossing the line in 28th spot.
Grade 10 student Julia Latham [Owen Sound - St. Mary's] has been improving all season and was ready to take on the other girls in the Junior Girls 4000m event.  She ran a very solid race with a goal of placing top-10.  She just missed her goal as she finished 17th in 17:50.
Grade 11 student Sam Nusselder [Port Elgin - SDSS] and Grade 13 student Dylan Pust [Hanover - JDHS] were the last of the Coyotes to compete, and they were up against a very tough Senior Boys field as they raced 7000m.  The start was very fast and the two Coyotes tried to hold on but faded in the 2nd half of the race.  Sam Nusselder had a solid 15th place as a grade 11 student finishing in 24:06.  Dylan Pust put it all on the line and went a bit too fast.  He dropped to 25th overall, crossing the line in 25:31.  Former Coyote Steve Nadjiwan, a grade 13 Wiarton student, placed 8th and did not advance.
The GBSSA Region extends from Collingwood to Orillia and over to Newmarket.  With GBSSA hosting OFSAA this year in Duntroon at the Highlands Nordic Cross Country Ski Trails, the number of available spots doubles to the top 10 individuals and the top 4 teams.  Zoe MacCulloch, a grade 10 Collingwood student, has competed at Highlands Nordic site a couple times and is very familiar with the muddy, twisting and hilly trails, giving her a bit of a "home course" advantage.  In the Grade 10 Junior Girls 4000m race, Zoe battled and overcame a flu-bug, crossing the line 7th overall.  She will be the lone Coyote competing at OFSAA.
For Zoe MacCulloch this will be her first appearance at OFSAA.  She will be racing in the Junior Girls 4000m event on Saturday, November 7th at the Highlands Nordic Ski Club in Duntroon at 12:15pm.