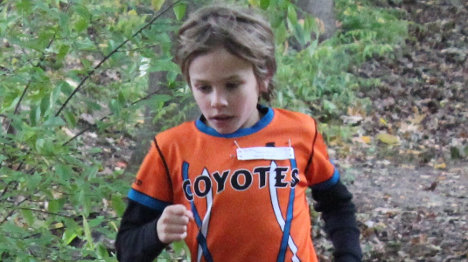 Tuesday October 20th was a very busy day of racing for the grade 1-8 Meaford Coyotes under comfortable and cloudy conditions.  
Most of the Grade 1-8's competed at the BWDSB "Base Race" in Meaford, with others in the Simcoe District competing at Mount. St. Louis Moonstone.  
"Many of our team had just raced against very tough competition in Burlington three days prior and had not quite recovered, but all of our team had fantastic results," said team coach Kevin Hooper.
The Coyotes are now peaking for the MTA Provincial Cross Country Championships in Etobicoke against Ontario's top young distance runners on Saturday, October 24.  
"We are taking our largest team ever of 37 members with high expectations of many strong individual and team performances," said Hooper.
BWDSB East "Base Race" XC Champs - Meaford
Grade 7-8 Boys - 3km
Tayden Hannivan [Grade 7] - 1st
Jacob French [8] - 3rd
Peter Ruest [8] - 4th
Spencer Book [8] - 5th

Grade 7-8 Girls - 3km
Matalyn Lee [8] - 1st
Teagan Davies [8] - 3rd
Hannah Knight [8] - 5th
Alex Scheifele [7] - 15th
Makayla French [7] - 16th

Grade 5-6 Boys - 2km
Devlin Gillis [5] - 8th / 130
Rohan Egan [5] - 9th / 130
Matthew Rocque [5] - 23rd / 130 [pushed into a bush]
Marshall Knight [5] - 58th / 130

Grade 5-6 Girls - 2km
Kara Tichbourne [5] - 1st / 141
Zoe Killeen [6] - 3rd / 141
Sydney Martin [5] - 8th / 141
Grace Boyce [5] - 10th / 141 
Kaitlyn Michael [6] - 58th? / 141

Grade 3-4 Boys - 2km
Noah Ruffett [4] - 26th / 175
Justin Acres [4] - 30th / 175
Web Brown [3] - 59th / 175

Grade 3-4 Girls - 2km
Taryn Lee [3] - 3rd / 170
Ava  Olivier [3] - 14th / 170
Sydney Knight [3] - 12th / 170

Grade 1-2 Boys - 1km
Will Olivier [1] - 31st

Grade 1-2 Girls - 1km
Hannah Davies [2] - 8th / 112
Natalie Book [2] - 37th / 112
Simcoe County XC Champs - Mount St. Louis Moonstone
Grade 8 Boys - 2.8km
Will Butwell [8] - 25th / 134 [ran with broken nose]

Grade 8 Girls - 2.8km
Zoe Sponagle [8] - 5th / 138

Grade 7 Boys - 2.6km
Jamie MacCulloch [7] - 10th / 138

Grade 7 Girls - 2.6km
Olivia Karns [7] - 5th / 137

Grade 6 Boys - 2.6km
Jack Garbutt - [Grade 6] - 2nd / 137

Grade 6 Girls - 2.6km
Devon Sponagle [6] - 41st / 137

Grade 5 Boys - 2.3km
Sebastien LeBlanc [5] - 47th / 137

Grade 5 Girls - 2.3km
Payton Dodd [5] - 8th / 138
McKenna Karn [5] - 17th / 138
Keira Sponagle [5] - 40th / 138