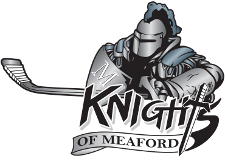 The Knights of Meaford hockey club took a beating in their home opener on Thursday October 15, with an 8 – 1 loss to the Bradford Rattlers.
The Rattlers controlled the game from the outset scoring two goals in the first period, and three in each of the second and third periods.
The Knights rebounded on Sunday (October 18) when they hosted Sturgeon Falls at the Meaford & St. Vincent Community Centre. After a scoreless first period, the Knights took control of the game in the second period scoring five goals, and three more in the third period to win 8 – 4. First star of the game, Ryan Hunter earned one goal, and three assists in the game.