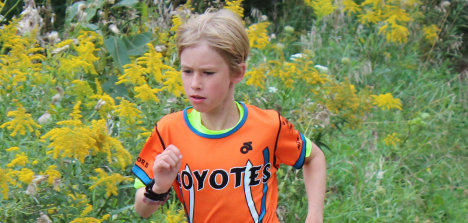 The Meaford Coyotes are deep into their Fall cross country season and the major races are now under way.  
Three of the Coyotes high school members competed at the Waterloo County Invitational Cross Country Meet on Thursday, October 8th.  Luc Nusselder, a grade 9 student at Saugeen District High School had his first taste of high school competition as he stepped onto the line against 165 Midget Boys.  Luc had bit of a slow start and got swallowed up initially, but worked his way through the pack to finish 11th overall on the 5km course in a time of 19:05.  
In the Grade 10 Junior Girls 4km race, St. Mary's student Julia Latham also cracked the top-20.  She cross the line in 16th of 130 competitors in a time of 18:01.  In the Senior Boys 7km race, grade 13 student Dylan Pust from John Diefenbaker High School and grade 11 team mate Sam Nusselder from Saugeen District laced up against a large field of 200 runners.  Both had very strong performances with Dylan taking 8th place, stopping the clock in 24:13 and Sam finishing in 10th spot with a time of 24:21.  
Also on Thursday, October 8th, in Simcoe County competitions in Midland, grade 10 Collingwood student, Zoe MacCulloch has significantly improved from 1 year ago.  She competed in the GBSSA Junior Girls 4km race, taking 5th place overall.  Her best performance last year was 14th.  
In Creemore at the Simcoe Area Meet the Coyotes had three other Coyotes competing on October 8th.  Jack Garbutt captured 1st place overall in the Grade 6 Boys 2km race.  Jamie MacCulloch competed in the Grade 7 Boys 2.5km race and was a close 2nd place overall and 20 seconds ahead of 3rd.  Will Butwell also grabbed gold in the Grade 8 Boys 3km race.
The Coyotes are in action again next week as the high school kids have their Area Cross Country Championships and our Grade 1-8 kids will be competing in Burlington at the Ken Lake Classic Cross Cross Country Meet on Saturday October 17th.  
[photo: Jamie MacCulloch, a grade 7 Collingwood student, placed 2nd in Creemore at the Simcoe Area Cross Country Meet on Thursday, October 8th]