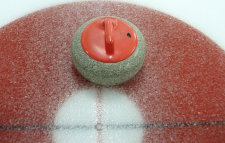 As the warm months begin to fade into the cold months, some might be looking for a winter activity, and the Meaford Curling Club is hoping to help.
Curling is a sport that is very accessible, and can be played leisurely or competitively. And then of course there is the infamous social aspect of curling that often sees players relax in the lounge after some fun on the ice.
The Meaford Curling Club was formed in 1876 and joined the Ontario Curling Association in 1877. While the original club was located at the same location as the current club (130 Collingwood Street), for many years the club operated from a building by the Big Head River and used natural ice until 1951 when an ice plant was installed.
There will be information sessions at 6:00 pm on October 8, and 13, at the curling club, followed by registration from 7 – 9 pm.
The club offers free lessons for novices, and is located at 130 Collingwood St, in Meaford. For more info, call: 519-538-4908