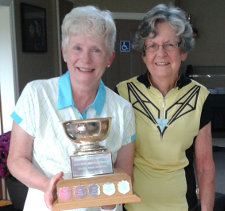 On September 24, the Meaford Ladies' Golf Club Awards Banquet  saw Barb Loranger, the 2015 champion, prevail in several categories.
Besides winning the club championship,Barb was Flight A winner, recipient of RCGA pin for Low net, and first place for fewest putts in the putt and pay weekly contest.
Barb was presented with the Barb Boyd trophy by Genny Horn, in memory of Pat Shorter. Sue MacDougald, frequent club champion, was runner up. She was presented with the Ralph Simpson trophy.
Sue also cleaned up in several other categories: first place for RCGA pin round, Match Play champion, and greatest reduction and lowest gross in Flight A.
Flight B winner Marge Allin was awarded the Howard trophy. Runner up was Anne Thompson. Winner of Flight C was Marg Tirpkoff and runner up was Barb Little.
Most Improved player Marge Allin was awarded the Helen Burness Trophy.
Low gross in B flight went to Marge Allin and in C flight to both Carole Frey and Joan Lounds.
Greatest reduction in B flight went to Anne Thompson and Cathy Seidle. In C flight the winner was Eva Alcorn.
First prize for birdies went to Marge Allin with four birdies, and second prize to Bev Reed, Sue MacDougald and Doris George tied with two birdies each.
In putt and pay, second prize went to Marge Allin, and third to Marg Tirpkoff.
Joan Martin won putt and pay for the 9 hole group.
President Donna Atkinson thanked all Ladies for their continued support of this small but ever so mighty group.After a great turkey dinner,the ladies bid farewell until this group's golf resumes in May 2016.