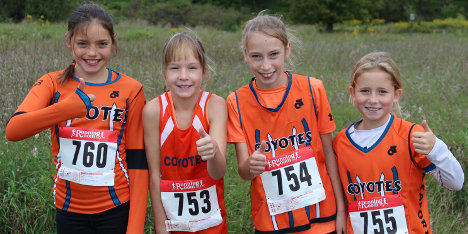 On Sunday, September 13, the Guelph Arboretum was the site of the first Minor Track Association Cross Country Meet of the season. The Meaford Coyotes Track Club sent 18 members in grade 1-8 down to compete and their hard work came shining through with a big medal haul.
This particular course is one of the toughest these young kids will see all season as they were running either up hill or down hill on each of the loops, with a very steep tough 200m climb to the finish line.
The first race of the day was the Grade 1-3 Mite Girls 1km race. Olivia Latham and Taryn Lee took 2nd and 3rd respectively as they sprinted up the final hill and edged out the 4th place girl. The Mite Boys 1km race had Denon Taylor dominate with a gold medal performance. Teammate Charlie MacCulloch ran a strong race and earned a bronze medal. Cole Gillis made his first appearance wearing Coyote orange and was a close 4th. Wes Brown motored up the last hill to capture 8th spot and Edmund McPherson finished in 12th position in a field of 14 competitors. The Mite Boys also won the 1st place Team award.
The Grade 4-5 Tyke Girls 1.5km race had the runners make two trips up the steep 200m hill. Grade 5 student Kara Tichbourne nosed out her London rival by 0.2 seconds to win gold. Payton Dodd improves every race as she was a close 4th. McKenna Karn ran a solid race as she took 13th spot. New-comer Grace Boyce made her Coyote debut crossing the line in 18th position against a field of 32. The girls earned a 2nd place Team award as well. The Tyke Boys also had a strong performance. In addition to taking the 2nd place team award, Devlin Gillis finished strong up the hill to capture a silver medal - just a few seconds behind first place. Team mate Sebastien LeBlanc lost a couple seconds going up the final hill and it cost him a bronze medal as he placed 4th - only 4 seconds behind Devlin. Noah Ruffett rounded out the team as he cross the line in 13th position in a field of 15.
Olivia Karn was our lone Grade 6-7 Atom Girl. She was running in 2nd spot most of the race but fell off the pace in the last couple minutes. She placed 4th overall in the 2km race with a strong field of 22 and only 2 seconds behind the 3rd place girl from North Halton. Jamie MacCulloch ran an aggressive race in the Atom Boys as he placed 5th of 22.
In the very fast Grade 8-9 Senior Girls 3km race, Matalyn Lee had an impressive showing of 8th spot against 19 others. Our final race had Matthew Nickels in the 3km Senior Boys race. Matt took 7th of 9 against some very fast runners.
"Overall it was a very encouraging start for our season as we earned 6 individual medals, 3 team awards and had 4 other Coyotes taking 4th spot finishes with a few other top members not able to make the trip. The team returns to action in Meaford on Saturday, October 3rd on the Craft Show Weekend. We will be hosting their 5th annual Coyote Cross Country Race for grade 1-8 Grey-Bruce school kids at the GBSS Athletic Field with an expected 300+ runners on the starting line," offered Coyotes coach, Kevin Hooper.