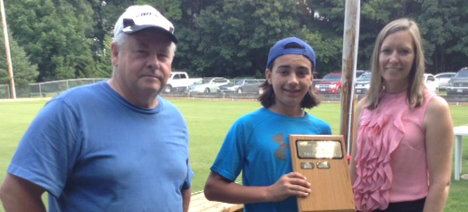 On Wednesday August 19, many brave souls came out to enjoy the 4-3-2-1 Lawn Bowling Tournament despite the wickedly hot, humid weather.
Teams for this tournament came from Chesley, Collingwood, Meaford, Mount Forest, Roselawn and Saugeen Shores.
The heat was not only in the air but also on the greens as it was as close a race for the top spot as possible. Both the top and second team had accumulated 94.5 points, but Owen Tichbourne's team took home the prize as their team had won more ends. Congratulations to Owen and his dad Brad.
Second Place was awarded to Donna Locke and Sheila Smith of Collingwood.
Ken Martin and Barb Eaton of Chesley came in third place. Fourth Place was Meaford's Murray Dougherty and Bill Bouwman. Consolation prizes were awarded to Don and Charlotte Panagapka of Saugeen Shores.
"Our many thanks to RBA Financial of Meaford for sponsoring this very popular event," said event organizers