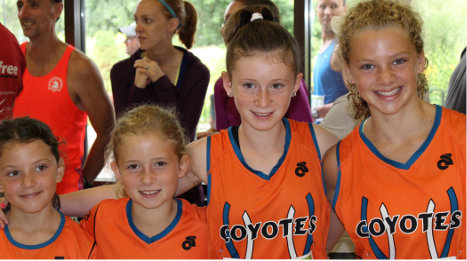 The Owen Sound Bayshore Road Race was held on Sunday, August 23rd with over 400 runners competing in either the 5km, 10km or the Kids 1km event, with all proceeds going to the Owen Sound Hospital Foundation.
Conditions were perfect on a sunny calm day with pleasant 20'C temps on a "pancake flat" new race course. Twenty-three members of the Meaford Coyotes Track Club were there to open their Fall season and see how well they would compete given that they are in the middle of a heavy training session.
The Nusselder family led the way for the Coyotes as Sam took second overall in the 5km race with younger brother Luc crossing the line in fourth, and taking first spot in the 14 year old and under category. Jessie Nusselder was the first female Coyote as she placed 11th overall and fourth female.
In the Kids 1km fun run for kids 10 years old and under, there were three Coyotes in the top-10 with Olivia Latham 2nd overall, Taryn Lee 7th and Noah Ruffett 10th. Many other Coyotes took top spots in their individual age groups as we had a constant stream of "orange" heading to the medal podium, while other Coyotes were competing in their first ever 5km race.
The Coyotes officially begin their Fall cross country season on Sunday, Sept 13th as several of our Grade 1-8 members will be heading to Guelph. We will be hosting our 5th annual Coyote Cross Country Race on Saturday, October 3rd [Craft Show Weekend] for school kids in grades 1-8. All events will be taking place at the GBSS athletic field beginning at 10:00am sharp.
Coyotes in the 5km Race:
Sam Nusselder - 2nd overall @ 17:32
Luc Nusselder - 4th overall and 1st in 14y.o. and under @ 18:18
Jake Clarke - 10th overall and 1st in 19yo and under @19:16
Jessie Nusselder - 11th overall and 1st in 19yo and under @ 19:29
Will Butwell - 19th and 3rd in 14y.o. and under @ 20:30
Will Latham - 22nd and 2nd in 19yo and under @ 20:53*
Olivia Karn - 26th overall and 2nd in 19yo and under @ 21:26*
Matalyn Lee - 27th and 3rd in 19yo and under @ 21:27*
Teagan Davies - 35th @ 22:36
Michael Karn - 36th @ 22:49
Julia Latham - 38th @ 22:53*
Payton Dodd - 39th @ 23:04*
Alex Scheffeifele - 43rd @ 23:47*
Hannah Knight - 45th @ 24:04
Spencer Book - 46th @ 23:55
McKenna Karn - 53rd @ 24:49
Sydney Martin - 67th @ 27:05