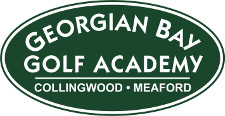 2015 Junior Golf Camps
Meaford Golf & Country Club
This summer get your kids into golf. Give them a chance to get outdoors, make new friends, get some great exercise and have fun learning the game of golf!
Half Day Junior Program
Includes 3 hours of group instruction, golf clubs, range balls and refreshments.

Select the date and times that best suit your busy summer schedule.

One and two (half) day camps are available.

For groups of 3 or more juniors.

Cost $45 per junior for 3 hour program.
Full Day Junior Programs
Includes 3 hours of group instruction at the practice range, lunch, 9 holes of golf, pull carts, refreshments and prizes.

Select the date and times that best suit your busy summer schedule.

One, two and three (full) day camps are available.

For groups of 3 or more juniors.

Cost $85 per junior for one day camp, $160 for 2 day camp and $225 for 3 day camp ( 18 holes of golf on day 3)
To Register: Contact Cameron Burechails (Teaching Professional)
The Georgian Bay Golf Academy
(705) 441-0865 baygolfacademy@bell.net