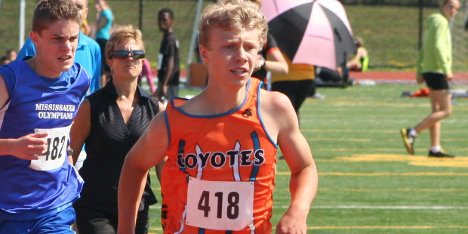 Burlington played host to the Ontario MTA Track and Field Championships on Saturday, July 26th under sunny warm conditions and the Meaford Coyotes Track Club sent a team of 12 down to this very competitive event.
The team did much better than expected as the Coyotes had just come off a two week "down time" and those competing were doing this competition as a "bonus race".
It was great to see so many strong performances at this meet as they earned eight personal best performances, brought home four provincial medals and gained more valuable race experience. For many of these young Coyotes, this was their first experience at a provincial championship, and they handled the pressure of the tough competition extremely well.
Mites Boys [2006-2007]
Justin Acres [2006] - 400m placed 5th in 1:27.67 [PB] and 800m placed 5th in 3:29.51
Mite Girls [2006-2007]
Lilly St. Marie [2006] - 400m placed 5th in 1:30.90 [PB] and 800m placed 2nd in 3:22.53 [PB].
Charlotte Woodhouse [2007] - 400m - 7th in 1:37.48 and 800m placed 5th in 4:00.76
Tykes Boys [2004-2005]
Devlin Gillis [2005] - 1500m placed 5th in 6:20.92
Tyke Girls [2004-2005]
Kara Tichbourne [2005] - 800m placed 2nd in 2:48.23 and 1500m placed 2nd in 5:38.46
Bethany Woodhouse [2004] - 800m placed 3rd in 2:50.46 [PB] and 1500m placed 5th in 5:53.39
Sydney Martin [2005] - 800m placed 14th in 3:21.47 and 1500m placed 15th 6:49.45
Atoms Boys [2002-2003]
Peter Ruest [2002] - 800m placed 7th in 2:31.39 [PB] and 1500m placed 7th in 5:13.55 [PB]
Matthew Nickels [2002] - 800m placed 13th in 2:45.85 [PB] and 1500m placed 15th in 5:44.48
MTA Sr. Boys [2000-2001]
Riley Higgs [2000] - 1500m placed 8th in 4:55.69 [PB]
Michael Ruest [2001] - 800m placed 18th in 2:31.09 and 1500m placed 14th in 5:10.33
Luc Nusselder [2001] - 1500m placed 18th in 5:16.38