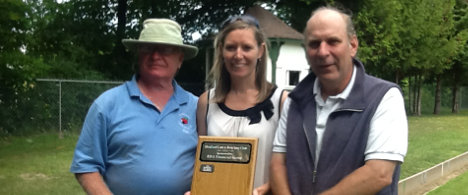 On Tuesday, August 19th, blessed with perfect weather conditions, RBA Financial Group sponsored for the second time, a 4321 lawn bowling tournament.
This relatively new twist to the traditional lawn bowling game, attracted 32 players from the surrounding towns of: Arthur, Dundalk, Hanover, Chesley, Saugeen Shores, Mt. Forest and Owen Sound.
On hand to present the plaque to the winning team of Meaford's Paul Warwick and Rea Best was RBA Financial Group Branch Manager, Heather Acres.
Second place awards went to Arthur's Glen and Peggy Dixon. Arthur team of Bill Dennis and Joyce Hallett took third place. Fourth place winners from Chesley are Eric and Sandy Weatherall.
A very close fifth place win was awarded to Meaford's Lynne Lundberg and Carol Carlson.