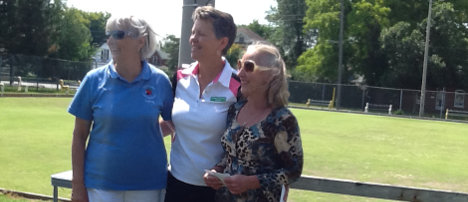 On Saturday, August 9th, a number of Meaford Lawn Bowling Club members drove to Collingwood to participate in their annual Veterans Day jitney.
The event began with a bagpiper leading a parade of flag bearing veterans and lawn bowlers around the perimeter of the green.
Teams were comprised of players from Collingwood, Midland and Meaford. The winning team was lead by Meaford skip Gladys Williams. Glady's team mates were Bob Maurice of Midland as vice and Sandra Smith of Collingwood. It was Sandra's father Chic Siminato who was the founder of this Veterans Day event.
The second winning team was comprised of Meaford's own Donna Eagles as skip, Audrey Dobie as vice and Mickie Cullen as lead.
It should be noted that Mickie is a first year bowler with the Meaford club and this is the second time in as many weeks that she has been part of a winning team. Well done.