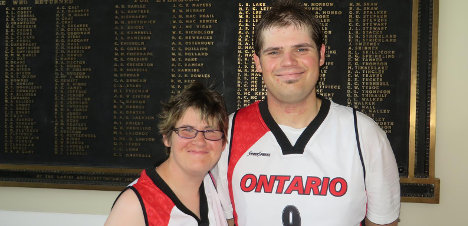 For many of us, the summer months are a time to take a step back, a time to relax a little. For others though, summertime is the perfect time for an adventure.
Allie Cooper from Meaford, and her boyfriend, Joram Munden from Thornbury had an unexpected summer adventure when they were called up to play with the Collingwood Eagles basketball team who were on their way to Vancouver earlier this month to participate in the Special Olympic National Games.
The pair, both 25, regularly play for the Meaford/Thornbury Thunder Special Olympics basketball team. That team won a bronze medal in the Provincial games in June of 2012, however they did not qualify for the national competition.
National level dreams were given a second chance however after the pair were asked to join the Eagles. Joram and Allie flew to Vancouver on July 7, and returned home on July 13 with gold medals after they and their team finished in first place in the Division 'C' competition.
They also came home to some very proud parents.
"They are inspiring to all if us," Cyndy Tyndall, mother of Allie told The Independent. "Their motto is "let me win, and if I cannot win, let me be brave in the attempt" - we focus on ability not disability; the team is a family and they support each others strengths and needs-- if you ever get a chance to go to a special Olympics provincial or national games - do it! You will be a better person for it, I could not be prouder."
Tyndall said that Joram's family is equally excited and proud of the pair, and the parents extended thanks to the team organizers and coaches for a fantastic experience.