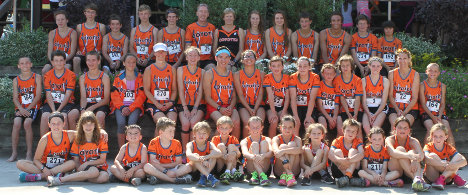 It was a hot sunny day in Meaford for the annual Harbour Road Race. The Meaford Coyotes Track Club painted the town orange as they took to the downtown streets in full force.
Almost 50 Coyotes of the 70 member team participated in either the "Kids 12 and under" 1km race or the traditional 5km race.
The team took top individual spots as Steven Nadiwan of Wiarton won the men's race in a personal best time of 16:00, while Hannah Woodhouse of Heathcote was the first female to cross the line. She also had a personal best time of 17:29.
"The Coyotes would like to thank the town of Meaford and the Meaford Kiwanis Club for their continued support, as well as all our sponsors. Your generous support allow our team to compete in local competitions to national championships as well as host our annual Fall Coyote Cross Country Race to over 300 school kids from grade 1-8," said club coach Kevin Hooper.
The Coyotes will now enjoy a well deserved two week break and begin training for their Fall cross country season on Tuesday, July 29th.
"We do have a select few grade 2-8 members headed to the MTA Provincial Track and Field Championships in Burlington on Saturday, July 26th," said Hooper.
If you are interested in becoming a member of the Coyotes, please email head coach Kevin Hooper at kevinhooper@rogers.com. They will be accepting new members until the middle of August with only a limited number of openings that are available on a first come-first serve basis. Please visit their website for full details of the team at www.meafordcoyotes.com.