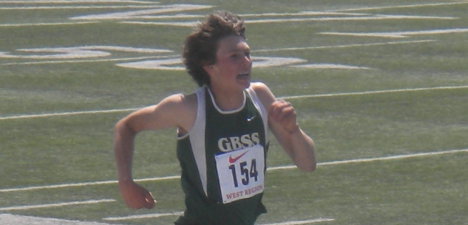 It was an extremely hot two days in Windsor, ON for the high school OFSAA West Regional Track and Field Championships held on Friday, May 30th and Saturday, May 31.
Seven members of the Meaford Coyotes Track Club attempted to advance to the OFSSA provincials, with only the top four in each event qualifying.
On Tuesday, May 27th, Bryce West of Collingwood Collegiate, competed in the OFSSA South Regionals with more civilized weather conditions.
GBSS grade 11 student Hannah Woodhouse of Heathcote led the way as she captured two silver medals. She comfortable cruised to a 4:35.27 personal best in the Senior Girls 1500m and a solid 10:01.33 time in the 3000m. Our Coyotes battled very stiff competition, scorching heat, and one dealt with the flu as they tied up their laces and put their hard training on the line. All of our runners ran exceptionally gutsy races, putting it all on the line, with some bringing up breakfast. They ran their hearts out and all of them should be extremely proud of themselves.
Grade 9 Midget Boys
Both Sam and Alex ran the races of their lives as the both advanced to OFSAA with huge personal best performances. Sam broke his high school record and Alex has only been training for 1 year and has had incredible improvements.
*Sam Nusselder [SDSS] - 2nd @ 3000m in 9:32.16 [23 sec PB]
*Alex Tulloch [GBSS] - 3rd @ 3000m in 9:44.51 [18 sec PB ]
Grade 10 Junior Girls
Rose was one of only two Coyotes to compete in two events at Regionals. Her strong finishing sprint advanced her to OFSAA in the 3000m.
*Rose Nadjiwan [PSDS] - 6th @ 1500m in 5:05.39 [5 sec PB] and 4th @ 3000m in 11:06.87
Grade 11-12 Senior Boys
Steven put it all on the line and went out with the "big boys" for the first 3/4 of the race before slipping off the pace. Jared struggled with the flu that day. His training has been exception the last few weeks.
*Steven Nadjiwan [PSDS] - 11th @ 3000m in 9:02.81 [2 sec PB]
*Jared Ruest [GBSS] - 14th @ 3000m in 9:17.44 [flu bug]
Grade 11-12 Senior Girls
Despite incredibly fast times, Hannah is still holding a couple aces up her sleeve for the OFSAA finals in both the 1500m and 3000m. Jessie gave every ounce of energy she had with an incredibly gutsy race. She went out with the "big girls" for the first 3/4 of the race before the pace and the heat got to her. Bryce continues to set personal bests each time she steps on the track and finally broke 60 sec for 400m