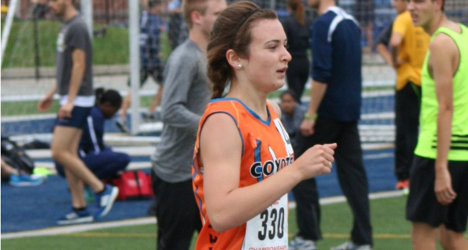 Three members of the Meaford Coyotes Track Club qualified to compete at the Athletics Ontario Provincial Track and Field Championships held at the University of Windsor on the June 12-14 weekend.
Jessie Nusselder, Sam Nusselder and Dylan Pust have all had a very strong outdoor track seasons and had tapered their training so they were ready to fly this weekend. The weather was cooperative for the first two days as the heavy rains had passed before the meet began, but returned on Sunday morning.
Dylan Pust, a grade 12 JDSS student, started things off on Friday night as be stepped onto the line in the Junior Men's 5000m event. He raced under the lights of both the track as well as lightning in the distance from a passing storm. Dylan's strong triathlon background at the Junior Elite level helped him have the endurance to "sprint" through his 5km race. His race plan was executed to perfection as he placed 7th of 11, knocking off over 40 seconds from his previous best performance to cross the line in new personal best time of 15:50.58.
Grade 12 SDSS student Jessie Nusselder kept the energy going on Saturday afternoon as she ran the first of her two races. She laced up in a highly competitive Junior Women's 1500m race after coming off running personal best times the last two weekends at OFSAA Regionals and OFSAA. Her race plan was geared to maximize her strengths and she didn't disappoint as she ran another personal best time in the Junior Women's 1500m event. She stopped the clock in 4:51.18 and placed 13th of 22 ladies.
Grade 10 SDSS student Sam Nusselder is still in the "Youth" age group, but qualified to compete up an age group as a "Junior". Sam gained some valuable race experience racing against older competitors and also excelled in his Junior Men's 1500m race. Calming his nerves and focusing on his race strengths, he also ran a personal best time of 4:13.78 and placed 18th of 30 men in yet an other highly competitive field.
Jessie ran her final race, the Junior Women's 3000m event on Sunday morning in the rain and was ready for another strong performance. There were only 6 entries, but fortunately the girls all had about the same seed times. The pace went out fast, but Jessie patiently held her composure and worked her way through the field. A strong last 500m moved her solidly into 3rd place and quickly gaining on 2nd, but ran out of real-estate. Her bronze medal performance of 10:28.01 was less than 4 seconds off her personal best time set last weekend and she captured her first Athletics Ontario medal as she concluded her high school track career.
"It was a great weekend! Of the four races our Coyotes competed in, they ran three personal best performances and won a bronze medal in the fourth race," beamed team coach Kevin Hooper.