Details

Published: Tuesday, 26 August 2014 09:08
Written by Staff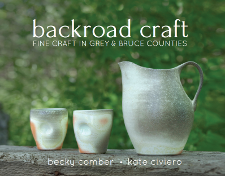 A new full-colour portfolio book highlighting the fine craft practice of thirty high-calibre makers from the Grey and Bruce Counties is about to go to press.
Confirming that a thriving arts culture is sustainable outside of city centres, Backroad Craft explores the inspirations, skills, and individual studio practices of thirty local craftspeople that make their homes within the two counties. This area has always been an attraction to artists seeking a peaceful environment to create fine craft, and the region has enjoyed a higher than average level of exceptional craftspeople as a result.