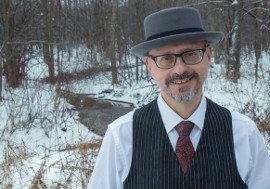 Spoken word performer Richard-Yves Sitoski is hoping to document the impact of COVID-19 on Grey and Bruce residents, and he is seeking contributions from the community.
The current Owen Sound Poet Laureate has put out a call to area residents to share their stories.
"How has your life been disrupted by COVID-19 – personally and professionally? What impact has it made on you and your loved ones? Your friends and neighbours? Your clients, customers, and audience? And how have you responded? What have you observed and concluded about the situation? How has life prepared you, or left you unprepared, for what is happening? How has your life been changed? What have you done to make life easier for yourself and for those in your circle?" he asked on social media recently.
Sitoski is looking for short memoirs, and creative non-fiction accounts of life during these difficult and unfamiliar times.
"Stories of triumph but also of tribulation; stories of isolation but also of solidarity; stories of personal loss but also of public renewal; stories of self-quarantine but also of bold action; stories of things that made you question, or that renewed, your faith in humanity. Especially, stories of individual and community spirit in the face of something unparalleled in our generation," he explained.
Sitoski will be collecting stories for consideration in an anthology by Owen Sound's Ginger Press. Poems, song lyrics, and essays are all acceptable.
"Be creative, reflective, and heartfelt," Sitoski asks.
Sitoski has released two collections of verse with the Ginger Press, brownfields (2014) and Downmarket Oldies FM Station Blues (2018). He is a member of the Métissage Collective, a performance group dedicated to sharing the lesser known stories of Owen Sound's history in poetry and song. In 2015 he was the recipient of the Owen Sound Cultural Award for Emerging Artist, and in 2018 he was a finalist in the ISC International Songwriting Contest, lyrics category.
Submissions will be accepted on an on-going basis. There is no formal deadline.
Please send all submissions to r_sitoski@yahoo.ca with 'Back Line' as the subject heading.