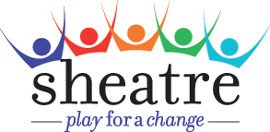 "Ye Canna Throw Yer Granny Off A Bus!" is a light and lively play about elder abuse. How can we all play a part to prevent that abuse, and deal with it? "Granny" will tell you, at a show on Wednesday, March 4 at 2 p.m., at the Owen Sound & North Grey Union Public Library, 841 1st Avenue W.
"Granny" will be accompanied by tips and facts from the Seniors Safety Network Grey Bruce and the Owen Sound Police Service. This free public event is sponsored by Violence Prevention Grey Bruce.
"Ye Canna Throw Yer Granny Off A Bus!" is performed by local seniors Paul Flood, Carroll Flood, Pauli Schell, and Joan MacDonnell. Their antics get the audience thinking, and spur people to want to know more. After the show, community experts take the stage to answer questions.
Drawn from real life, the serious stories are lightened by endearing characters and intertwined with lively, often humourous, music. Audiences will learn something about emotional, physical, spiritual and mental abuse, and neglect.
In the coming months, "Ye Canna Throw Yer Granny Off A Bus!" will be seen across Grey and Bruce, including shows in Dundalk, Thornbury, and Lion's Head. The play will also go farther afield – it's featured in three Knowledge Exchange Days hosted by Elder Abuse Prevention Ontario, in Sarnia, Collingwood, and Toronto.
The storyline: When Fred moves to a seniors' complex, he bumps into an old friend, Doris. As they reminisce about people they used to know, the stories of abuse unfold – and what Doris and others did in response. Then Fred confides a dark secret of his own.
"Granny" is produced by Sheatre, the award-winning community arts company based in Kemble.
It was originally written by Audrey Otter, Ted Codack, Joan Chandler, and david sereda. Original lyrics are by Cora Taylor. Sheatre has reached over 142,775 people in Canada, the U.S., and England through the creation and production of 114 original plays. Over a third of Sheatre's work is with seniors.
Elder abuse is not as uncommon as we might like to think. As our population is aging, education about the issues is important. Canadian studies suggest that 8-10% of older adults experience abuse (approximately 750,000 seniors in Canada), but, due to under-reporting, this is not at all clear. It's estimated that only 20% of incidents of elder abuse ever come to the attention of a person who can help. Often people feel helpless or don't know what to do. "Granny" can help people to know, and can make connections to resources.
"Ye Canna Throw Yer Granny Off a Bus!" is generously supported by the Community Foundation of Grey Bruce, Ron Todd of Todd & Associates Wealth Management, BDO, OPSEU Local 260, and the Harmony Centre. The March 4 show is one of two sponsored by Violence Prevention Grey Bruce. Sheatre is funded in part by the Ontario Arts Council.