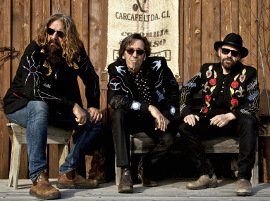 Celebrating their 25th anniversary together, Canadian super-group Blackie and the Rodeo Kings have released their 10th studio album, King of This Town, via Warner Music Canada, available physically (CD and vinyl) and digitally for download and streaming across all platforms.
The band is touring in support of the new album and will be performing at Meaford Hall on Sunday, February 23.
Comprised of Tom Wilson, Colin Linden, and Stephen Fearing, the trio are true musical collaborators, drawing on each of their respective genres to blend rock, blues, and folk, to create a unique sound that is distinctively their own.
The group debuted the record earlier this month on the famous Opry stage, where they kicked off their 2020 touring season with a string of Nashville shows before embarking on the official King Of This Town tour. Every ticket for the tour will include a digital copy of the new album. The band shows no signs of slowing down on the road, with a busy summer festival season to be announced, including the UK's Shrewsbury Folk Festival in August and more Canadian dates to follow.
Blackie and The Rodeo Kings originally formed in 1996, when Colin Linden, Stephen Fearing, and Tom Wilson came together to record what was supposed to be a one-off tribute album to the great Canadian songwriter Willie P. Bennett. At the time, all three members were deeply committed to burgeoning solo careers that they had no intentions of putting on hold, and had no plans to turn Blackie into an ongoing concern. Now, 25 years later, Blackie and the Rodeo Kings has organically evolved into one of the finest roots-oriented bands in North America, and remains one of Canada's greatest musical treasures.