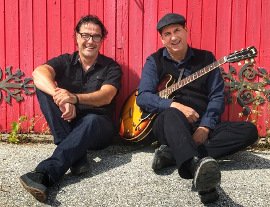 Live music returns to Meaford in the form of the Thirsty Thursday Jam, every week at the Red Door Pub and Grill starting Thursday, February 6, at 5 p.m.
This is exciting news for local music fans, especially since it will be hosted by Chris Scerri. A few years ago there was a flurry of musical activity in downtown Meaford that had grown around the open stage Scerri hosted at the Leeky Canoe. It had proven so popular that soon other venues opened similar jam nights.
While Meaford is lucky to have the long-standing institution of a weekly high-energy rock jam at Ted's Range Road Diner, which for decades has been an incubator for outstanding local talent, the Thirsty Thursdays at The Red Door will be somewhat more subdued, in a small intimate venue. Since the demise of the Sunday jams at The Barn, fans of softer, more acoustic jams have felt the absence of this type of entertainment.
One of the exciting aspects of the original jam at the Leeky was that each week Scerri would share the stage with a different co-host, drawn not only from local talent but also from his friends and contacts from out of town. This time around, one of the best from those days will be his permanent co-host. Jon Zaslow now performs regularly with Chris as a duo, and the two of them form the core of an excellent rocking band called Horseshoes and Handgrenades. Jon has also been central to several productions produced by Scerri in his role as an impresario, that have been so well received at Meaford Hall and other venues, including tributes to The Band's Last Waltz and to Woodstock. His slick guitar work and encyclopaedic knowledge of classic rock will add an important dimension to this open stage.
The open stage concept holds an important place in local entertainment. It gives developing talent a chance to hone their skills in front of a live audience. It also provides a kind of busman's holiday to the many professional musicians who call our area home, allowing them to play without the pressure of touring. And anyone is welcome to get up and perform. It's these elements that guarantee unexpected surprises for the audience at the talent grab-bag that is the open stage.
The early hour means that both performers and audience can come out to enjoy friends and good music with no cover charge, and still leave the remainder of the evening free for other plans. Of course it also means a chance to have a meal while enjoying the music, taking advantage of a full menu, $5 draft beer and the "best burger in town" provided by manager and chef Dave Alexander. And to top it off, local singer-songwriter Zoltan Stewart will be there every week because he works front of house at the Red Door.