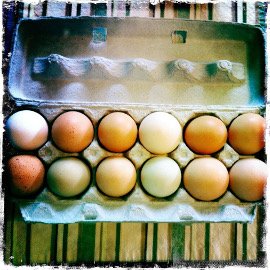 The Food of Love, a new music-making project, will begin in 2020 in Grey Bruce. Led by singer and songwriter David Sereda, the goal is to learn about local food and the people who provide it, then write new songs.
"It's a way to learn about food from here, and to explore songwriting," says Sereda.
This new project started with a simple question: where does local food come from?
"I buy delicious eggs from my neighbour," says Sereda, "but one day I realized that I have no idea what is involved before those eggs end up in the carton in my hand. That's the same for a lot of the locally produced food I buy, so why not demystify food and connect with what literally keeps us alive?"
Though Sereda is known across Canada as an acclaimed singer-songwriter, this won't be a solitary effort. He plans to lead a group of interested participants on field trips to various food providers in Grey Bruce. They will learn about their lives and the food they produce, farm or catch, then turn those observations into songs.
Over the course of the year-long project, the new songs will be performed in community concerts around Grey and Bruce counties.
The Food of Love will also look at the big picture of food here, where 1 out of 5 households are food insecure – meaning 20% of people can't feed themselves on a regular basis – according to Grey Bruce Public Health.
More information about The Food of Love, and a calendar of field trips will be announced in January. To learn more and get involved, contact david sereda at dsereda786@gmail.com The project has received funding support from the Ontario Arts Council, an agency of the Government of Ontario and creative support from Sheatre.