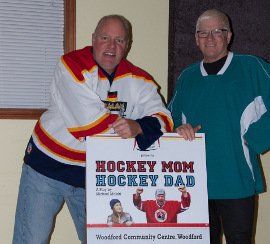 Lest the title of Michael Melski's play Hockey Mom Hockey Dad be misleading, know that the play is as much a tender love story as it is a comment on the comic, sometimes uproarious, antics in the hockey rink.
Meaford Theatre Company (MTC) presents Melski's Hockey Mom Hockey Dad on November, 21, 22, and 23, in the company's new home in the Woodford Community Centre and November 28, 29, and 30 at Marsh Street Centre in Clarksburg.
Hockey Mom Hockey Dad is a two-hander comedy drama, according to director Kim Ransom, starring seasoned MTC actor Heather Ann Hanson and newcomer Lance Pask.
Donna (Heather Ann Hanson) is a lonely, unemployed, broken-hearted, divorced mother who wants only for her son to find new friends and be accepted. Teddy (Lance Park) sees nothing less than a brilliant NHL career for his eight-year-old son. He too is divorced, and a womanizer. Truth be known, he yearns to be once again a family man.
"The role of Donna is one of powerful raw emotion," said Ransom. "Of fear, love, and compassion. Heather Ann has the ability to make an audience cry, to envelop and deliver that raw emotion.
"Teddy is a boisterous loudmouth but with a tender side and Lance has the energy and power in his voice to bring Teddy to life. He is a perfect match."
MTC audiences will remember Heather Ann in a radically different role as a crazy drunken bride, in last year's production of Stag and Doe. Lance brings to the stage more than 15 years of experience with the Oshawa Little Theatre and Whitby Court House Theatre Company, and nominations for Association of Community Theatres-Central Ontario (ACT-CO) awards.
Donna and Teddy meet in the stands during their sons' hockey season. Teddy takes Donna under his wing and tries to give her "all the padding she needs to understand the rough side of hockey", said Lance. "Like in all relationships, there are a lot of twists and turns."
The Hockey Mom Hockey Dad production at Woodford Community Centre starts at 8 p.m. Tickets are available at Stuff to Read in Meaford and at the door - adults $20 and students $15.
The Marsh Street Centre production is at 7:30 p.m. Tickets are available at Pharmasave (Thornbury), online at marshstreetcentre.com and at the door.
Photo:
Lance Park (left) plays the role of Teddy, a boisterous hockey dad who takes a lonely hockey mom (Heather Ann Hanson) under his wing and tries to buffer her against the rougher side of hockey, in Meaford Theatre Company's Hockey Mom Hockey Dad directed by Kim Ransom (right).