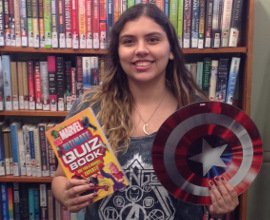 Iron Man, Thor, Captain America, Spider-man – who is your favourite Marvel character?
Join the library for a Marvel Trivia Night on Friday, November 22 at the Meaford and St. Vincent Community Centre. The event is a fundraiser for the new Meaford Public Library and promises to be a ton of fun – for people of all ages.
Doors open at 6:30 p.m. and the first question will be at 7 p.m.
Organizers are looking for teams of up to six people – cost is $60 per team. Please pay at the door. Pick up your registration form at the Library or online at: www.meaford.ca/newlibrary.
It will be a 'Marvelous' night of trivia fun with prizes for the best-dressed team and, of course, prizes for the trivia winners. Plus pizza and candy available for purchase.
This special Marvel Trivia Night is open to everyone – the young and the young at heart. Don't be shy – come and show off your Marvel Trivia knowledge!
For more information, call 519-538-1060 ext. 1123 or visit www.meaford.ca/newlibrary.
Avengers assemble!
Photo: Library staff member Shauntel shows off some Marvel graphic novels and accessories.