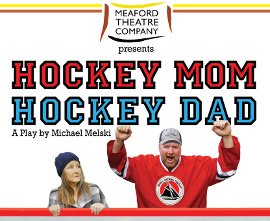 The Meaford Theatre Company cast and crew are particularly excited about this year's Remembrance Day program on November 9. Not only will the program continue the tradition of commemorating all who served in military conflicts since WWI, the program will be the theatre company's debut production in its new home in Woodford Community Centre.
Meaford Theatre Company, in partnership with Meaford United Church, will present Our Community Remembers, a Remembrance Day program of music and drama on Saturday, November 9, at 2 p.m. and a second performance at 7 p.m. Admission is $20 at the door. Veterans and students under 16, free.
Director Mary Bryant describes the cast and crew as a blend of new talent and thespians from previous productions. "Ours is a small community," she said. "We are always looking for new talent. It's out there… it just takes a bit of sleuthing.
"At the same time, ours is a rich and vibrant theatre community that is growing exponentially with young actors and crew members moving up through the ranks from the Kids in Meaford Hall productions to the Meaford Theatre Company."
The venue will be new but the mix of music, skits, and recitations promises to be as moving a tribute as in the theatre company's past six Remembrance Day programs. Our Community Remembers will feature the music of WWI and WWII performed by the Meaford United Church choir, testimonies from three members of the Royal Canadian Legion Branch 32 (Meaford), and a musical skit modelled after one of the entertainment units that performed for troops on the front lines, the Dumbells.
The Meaford Theatre Company has entered into a two-year lease agreement with the Municipality of Meaford to use the Woodford Community Centre as a home base for its rehearsals, set construction, and storage, and productions. Volunteers have been working alongside the company's director Kim Ransom since August to build storage units and sound baffles, upgrade the hall's washrooms, and extend the stage. They have already started building the sets for the company's Remembrance Day program and the Hockey Mom Hockey Dad production scheduled for November 21-23 and have made room for the Kids in the Meaford Hall crews to build their sets for the December 5 and 6 production of Alice in Wonderland on stage at Meaford Hall. "The exciting part of of our new home is: the sky's the limit," Ransom said. "There are a number of us who are keen to build community theatre in the area. We look around the hall and see so many possibilities."
"If anyone is having trouble imagining Woodford Community Centre as a theatre, then come and see. It's only a short ten-minute drive from downtown Meaford."