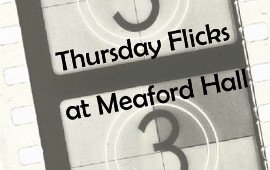 After a summer off, On The Screen Thursday Flicks are back for another fall season, starting on Thursday, September 12, at 4 p.m.
Kicking off the season is Apollo 11 on September 12, at 4 p.m. This documentary features never-before-seen, unedited footage, as NASA prepares to send the first men to the moon and reveals the personal lives and experiences of Commander Neil Armstrong, Buzz Aldrin, and Michael Collins.
Next on the screen is If Beale Street Could Talk on September 26, set in early 1970s Harlem. If Beale Street Could Talk is a timeless and moving love story of both a couple's unbreakable bond and the African-American family's empowering embrace, as told through the eyes of 19-year-old Tish Rivers.
Rocketman on October 10 will have two showtimes, playing at 4 p.m. and 7:30 p.m. Rocketman is a 2019 biographical musical drama film based on the life of musician Elton John, directed by Dexter Fletcher and written by Lee Hall. The film follows John's early days as a prodigy at the Royal Academy of Music to his musical partnership with Bernie Taupin.
Up next is They Shall Not Grow Old on November 7. Using state of the art technology to restore original archival footage which is more than 100 years old, Academy Award-winner Peter Jackson brings to life the people who can best tell this story: the men who were there.
Finishing off November is Meditation Park on November 21. Maria re-evaluates the life that she and her husband, Bing, have built after emigrating from Hong Kong when she finds evidence that he's having an affair.
Don't miss out on all these great films! Tickets are $10 in advance or $12 the day of the show. Visit www.meafordhall.ca, phone 1-877-538-0463, or stop by the Meaford Hall box office to order now.