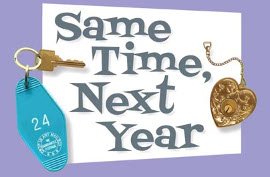 After a great start to Summer Theatre with Alice's Restaurant, 'Same Time, Next Year' by the Orillia Opera House Production takes the Meaford Hall stage next starting August 7, running until August 9.
The Tony and Oscar nominated story of a two people, each happily married to someone else, who annually get together for a weekend over two decades, sharing their lives, dreams, hopes and challenges from the early 1950s through the mid-70s. The play ran for three years on Broadway and became a beloved Hollywood film starring Alan Alda and Ellen Burstyn.
Finishing off the summer from August 21st to 24th is Derek Marshall & Nicholas Arnold in a concert presentation of Dean & Jerry: What Might Have Been. A fabulous theatrical concert of timeless hits from the illustrious musical-comedy team— Dean Martin and Jerry Lewis. Featuring musical hits such as Everybody Loves Somebody, Sway, You're Nobody Til Somebody Loves You and more. Enjoy the classic music and hilarious humour that made this duo so famous- it will leave you wondering 'what if they had never split?
Tickets available online at www.meafordhall.ca, by phone 1.877.538.0463 or at the Meaford Hall Box Office.