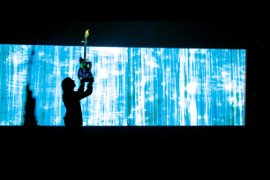 Organizers of the annual Electric Eclectics Festival are pleased at the number of local artists who will be join the ranks of the international performers this year.
Gordon Monahan and Laura Kikauka will host the annual festival on their farm on Scotch Mountain in the Municipality of Meaford, Friday to Sunday, August 2-4. Seven local groups are scheduled to perform alongside international duos the likes of Lee Ranaldo and Leah Singer and Alex Zhang Hungtai and Pierre Guerineau, as well as line-up of artists , DJs, and installation artists.
For those unfamiliar with electric eclectics, Monahan describes it as a "more expanded view of what music can be, a genre that could include stage performances, theatricals. projections, techno shows and interactive performances."
But it's the number of good quality local artists that has Monahan excited "We get a couple hundred applications to perform each year. This year's performers include the largest number of local performers ever, all of them good quality artists who fit well."
The festival is the opposite of a large corporate festival, according to Monahan. "Ours is laid back, the very opposite of your large corporate festival," he says. Festival goers start arriving on Friday, camp out for the weekend or come and go throughout the weekend. Camping is free-of-charge.
The numbers attending in past years are notable, anywhere from 250 to 800 people in the audience at anyone time. Monahan expects that Lee Ranaldo will be the biggest draw this year. "This guy is big," he says, "rated 33rd on Rolling Stones Greatest Guitarists of All Time" list (2004). He was a co-founder of the alternative rock band Sonic Youth. Ranaldo and Singer physically immerse the audience in a sound and image spectacle as Ranaldo's guitar plays and swings in pendulum arcs through the performance and audience space while interacting with Singer's overlaid projections. The duo has performed this piece at numerous international venues in Rotterdam, Reykjavik, Italy, New York, Shanghai and elsewhere.
"Also headlining is David First, a New York-based composer who has performed on guitar with Cecil Taylor, created a significant ouevre of analog electronic music dating to the 1970s, co-founded the seminal 1980s psychedelic punk band Notekillers, and has released a significant number of drone-work recordings to critical acclaim. First has been called 'a bizarre cross between Hendrix and La Monte Young' in the Village Voice.
"Other performers at EE 2019 include Hélène Barbier (Montreal), multidisciplinary artist and musician Alexis O'Hara (Montreal), post-punk foursome Bonnie Doon (Ottawa), electronic duo Cares +WHQB (Toronto), sound artist Adam Basanta (Montreal), DJ 1KW (Munich), DJ Michael J. Brown (Toronto), Lee Paradise (Toronto) and Freaky Boos (Hamilton)."
Anyone wanting to attend is urged to visit the Electric Eclectics Festival website for prices of day or weekend passes, directions, line-up, schedule, special offers on passes, and some helpful tips on what to bring to make the festival experience comfortable. Visit ww.electric-eclectics.com.
Photo: Lee Ranaldo and his wife Leah Singer headline this year's Electric Eclectics Festival on Scotch Mountain on Friday to Sunday, August 2-4. The Ranaldo and Singer performance is described as a sound and image spectacle as Ranaldo's guitar plays and swings in pendulum arcs through the performance and audience space.