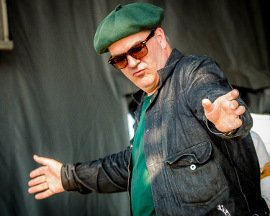 Meaford resident Chris Scerri has done more than just bring live music front and centre in Meaford - he has also revived a tradition that dates back some five decades when the stage atop the building that currently houses Midas Mart was used for community concerts and outdoor church services.
Scerri is a musician, music promoter, owner of Chris Scerri Presents, and founder of the Meaford Summer Concert Series, now its its fourth season beginning July 12 with Friday night concerts at 7 p.m. in Market Square on Sykes Street in downtown Meaford. Concert dates are July 12, July 26, August 2, and August 16.
"The summer concerts are a way of bringing people downtown on a summer evening, showcasing headliners and local talent, and creating a sense of community," he says. "Thanks to our sponsors, the concerts are free of charge. Donations of perishable goods for the Golden Town Outreach Food Bank are always welcome. We collected approximately 500 pounds each year for the past three years."
This year's line-up could prove to the best yet, according to Scerri, featuring both Juno and Maple Blues award-winners and local musicians. The July 12 concert headline is Paul Reddick and the Sidemen. As is the case with all four concerts, the concert will open at 7 p.m. with a local talent. Opening for Reddick and the Sidemen will be Jolie Smith of Collingwood, On July 26, Soulstack, a six-piece band from Toronto; August 2, Samantha Martin and Delta Sugar; and on August 16, Bywater Call, another Toronto group and Meaford's own Stephanie Yarnell
July 12: Paul Reddick is a Juno Best-Blues-Album winner and the 2017 Merriam Music Emerging Artist at the TD Oakville Songs of Summer Festival.
July 26: Soulstack was nominated for a total of eight Maple Blues Awards, and won three of these as Drummer-of-the-Year.
August 2: The Samantha Martin and Delta Sugar group was nominated this year for four Maple Blues Awards - Album of The Year, Songwriter of The Year, Entertainer of The Year, and Female Vocalist of The Year - and their single Run To Me earned a Juno nomination.
August 16: Bywater Call, a southern soul, gospel and blues band was named the Toronto Blues Society Talent Search winner at the TD Toronto Jazz Festival in 2018.
For a complete profile of the four headliners, their bios and styles, visit chrisscerripresents.com/meaford-summer-concert-series-2019.
The concert series has grown in popularity since its inception in 2016. "We did a survey last year and learned that about half of the audiences were local the other half coming from Wasage Beach, Collingwood, Thornbury, and Owen Sound," Scerri says. "These performers have their own following that draws crowds from Simcoe, Grey, and Bruce Counties. They love grassroots venues like this one."
It's a win-win situation, according to Scerri who, as a former performing artist in the Toronto area, finds the energy from community venues amazing. Local people like the idea of a place to bring their dogs and a camp chairs and experience a variety of music genres. Families are happy to be out together on a summer evening. And in case of rain, there is always the Meaford Hall gallery to fall back on.
"This year's series is going to be the best yet, so come early and claim your spot." he says. "Vendors and groups are welcome to set up tables. There's no charge. Just contact me at chris@chrisscerripresents.com."
Photo: Juno award winner Paul Reddick