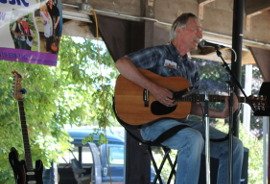 Artists draw inspiration from a number of sources, and for local singer-songwriter Bill Monahan, his inspiration comes from his community. He'll be sharing the fruits of that inspiration with the community on Sunday, July 7, at 7 p.m., at the Rotary Harbour Pavilion, as part of the Sunday Concert series presented by the Friends of the Meaford Public Library.
Monahan has lived in Meaford for ten years, and performing at the harbour was something that appealed to him from the moment he arrived.
"When I first came here and I saw it, I knew I wanted to play at the harbour, so I pestered Paul Wehrle for a couple of years until he finally gave me a spot, and I've done it now for the last three or four years," Monahan told The Independent during a recent interview.
For this year's performance on July 7, Monahan will be performing mostly original songs in his folk-country style with a cover or two mixed in.
Since first moving to Meaford, Monahan has found many surprises, including the abundance of musical talent that can be found in the area. That realization prompted him to start writing about local musicians for a website he called Meaford Live Music, however he had to discontinue the website in order to focus on his business and his own musical growth.
When he looks around his adopted community, Monahan finds inspiration for his art.
"Everything about Meaford is exactly what I want in a place to live, and I discover more every day," said Monahan. "The warmth of the people here, and the openness to new ideas was really attractive to me. Meaford just seems to have new riches all the time."
Though he had assumed that Meaford would be a quiet little rural town when he first moved here, he quickly discovered that while Meaford might be small, its residents are active and engaged in their community.
"There are so many dreamers in this town," said Monahan, and those dreamers inspire him to dream as well. "If you've come here to make life-long friends, it's the place to be for sure."
Monahan is excited to be returning to the harbour pavilion to perform, and he has prepared a set list of some 20 songs to share with those who attend the concert. Those who attend are encouraged to bring their own chair. Attendees are encouraged to 'pay what you can' with all proceeds going to the Friends of Meaford Library, who use funds raised to support the library.
The remaining performances in the Friends of the Meaford Public Library's Sunday Concert Series are as follows:
| | |
| --- | --- |
| Sunday, 14 July | Beverly Taft |
| Sunday 21 July | Valley Concert Band |
| Sunday, 28 July | TBA |
| Sunday, 4 August | Allan Johnson |
| Sunday, 11 August | TBA |
| Sunday, 18 August | The Brown's Music Time Machine |
| Sunday, 25 August | Bored of Education |
| Sunday, 01 September | TBA |