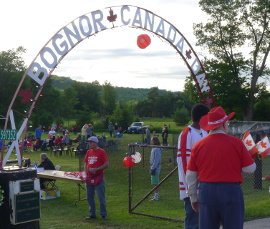 The Bognor Canada Day committee has been busy working to prepare for this year's Canada Day celebrations.
The birth of what we know today as the hamlet of Bognor took place roughly a quarter century before Canada became a nation, when early settlers began to arrive in the 1840s, setting up farms and laying the seeds for what would officially become the community of Bognor in June of 1879 – Happy 140th Birthday Bognor!
The annual Canada Day celebration takes place at the Bognor Community Park as well as the community centre across the road from the park.
Gary Shute of the Bognor Canada Day Committee told The Independent that there will be many activities for the whole family.
"This year we are offering games for all ages including log-sawing, bale toss, golf chips, and a number of children's games," said Shute. "Musical entertainment will be provided by Mill Pond Project, and we have a food booth on the grounds offered by the Rocklyn 4-H Club."
In addition to games and food, the Walters Falls Classic Car group will once again display their vintage cars, and the Inter-Township Fire Department will also be putting on a display.
"We have Canada Day cake and cupcakes and hot and cold drinks for free," Shute said. "We end off our evening with a fantastic fireworks display in the park."
The annual event in Bognor is a community endeavour, and event organizers proudly display a lengthy list of event sponsors at the entrance to the park.
The celebrating begins on Monday, July 1 at 6 p.m.