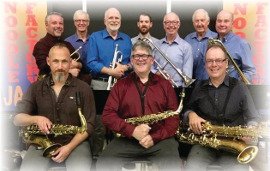 The amazing 10-piece Little Big Band, the Noodle Factory Jazz Project, presents a special program featuring Cole Porter tunes arranged by Cam Porter, a composer and arranger in his own right.
The impressive, almost symphonic sound of the orchestra is based on the specific arrangements by Cam and other band members. For this concert Lori Ladd will be featured as female vocalist.
At the beginning of the show you will hear the Valley Youth Ensemble, another 10-piece concert band. These enthusiastic Grade 8-10 music students attend the Music After School program, funded by Thornbury Jazzworks, and are working hard to elevate their instrumental skills and learn the basics of ensemble playing.
Come early, doors open at 7 p.m., show starts at 7:30 p.m. Tickets are $25, $5 for students at the door. Available at Pharmasave in Thornbury, Marsh Street Centre in Clarksburg, and Gabriele Photography in Collingwood.