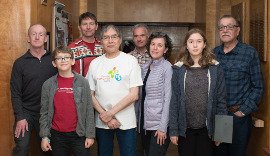 Rain, snow, and cold made for a memorable day for the delegation of runners who set out before dawn from Cape Croker headed to Meaford, in honour of two of the original ten runners featured in the screening of Niigaanibatowaad: FrontRunners on Sunday, April 14, at Meaford Hall, and in memory of the eight FrontRunners now deceased.
One of Sunday's runners, Michael Johnston, described the day to his running partner Nick Brindisi as "better than a sunny day. What with the rain and snow and cold, we will remember this run."
In 1967, ten outstanding young Indigenous athletes were chosen to run 800 kilometres over an ancient message route, carrying the Pan American Games torch from Minneapolis to a Winnipeg stadium. When the FrontRunners arrived at the stadium, they were not allowed to enter. The torch was taken from them and carried the final lap by a non-Indigenous athlete.
Laura Robinson of Meaford was present during the 1999 PanAm Games, when seven of the ten torch bearers from 1967 once again carried the torch, this time into the Winnipeg stadium, thus completing a journey begun 32 years earlier. Their story was the inspiration that she carried with her to Calgary where she began to write Niigaanibatowaad: FrontRunner during her time as writer-in-residence at the University of Calgary in 2000. Niigaanibatowaad: FrontRunners, a National Film Board documentary, exposes some of the atrocities of residential schools that Laura cautioned "some viewers may find painful to watch."
FrontRunner William Merasty's memory of the day he and his fellow runners arrived in Winnipeg carrying the PanAmerican Games torch is, he admits, weak. "People ask me: 'What happened?' To tell the truth, I don't know. My mind was so traumatized from life in a residential school. We were taught not to ask questions. If we did we were severely punished. One can conclude there was racism involved. Thinking about it now, we did a great thing. We ran carrying fire and fire is life. Fire is sacred," he said.
The screening of Niigaanibatowaad: FrontRunners was hosted by Meaford's Christ Church Anglican as a way to bridge understanding and reconciliation, according to Chippewas of Nawash Chief Greg Nadjiwon. "These are days of true reconciliation when male, female, young, and old work together to make right the grave injustices of the past, to acknowledge (the two surviving FrontRunners) William Merasty and Bill Chippeway, and to reflect on those who ran together in true team spirit."
Photo: Members of the delegation of runners who ran from Caper Croker to Meaford on April 14 joined two of the original FrontRunners of 1967 for a potluck dinner at Meaford's Christ Church Anglican. Back row: Michael Johnston and Nick Brindisi. Front row: Meaford Coyote Runners Club founding member Andrew Harrington, Lake Johnston-McDonald, FrontRunner Bill Chippeway, Stephanie Johnston-McDonald, Holly Johnston-McDonald, and FrontRunner William Merasty.