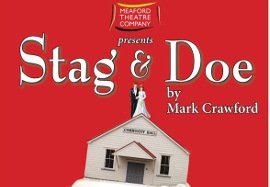 The storyline, set, and antics on stage of the Meaford Community Theatre's spring production are bound to strike a familiar note during the company's performance of Stag and Doe.
Canadian playwright Mark Crawford's comedy Stag and Doe centres on a heartwarming small-town tradition that combines a bridal shower and bachelor party into one open-invitation fundraising party typically held in a community hall. Crawford's Stag and Doe is fraught with complications, according to Meaford Community Theatre director Kim Ransom, "making for a fabulous comedy," he said. "A young farm couple in a small-town community are preparing for their wedding reception when their borrowed reception tent is carried away during a storm and dumped in a manure pile," he said.
Matters get complicated when the couple pleads to move their reception into the community hall that is booked for another couple's stag and doe. Pre-wedding stress and jitters escalate. Old grudges surface.
Stag and Doe will be staged at the Meaford and St. Vincent Community Centre, April 4-6, and at the Marsh Street Centre, April 11-13, at 7 p.m.
Both centres lend themselves well to the play's small-town community hall setting, according to Kim. "Whereas last year's production (Ted John's He Won't Come In From The Barn) was set in a barn complete with a pig and cow and staged in the Grandma Lambe's Family Barn, this year's Stag and Doe takes place in the kitchen of a community hall.
"It's quite exciting to have three new actors on stage, one from Wasaga Beach, one from Kimberley, and another from Thornbury."
Tickets are on sale in advance online at www.marshstreetcentre.com/tickets; at three locations - Stuff to Read, Thornbury Pharmasave, and Marsh Street Centre box office. Tickets will be available at the door on production nights. Adults $20, students $15.