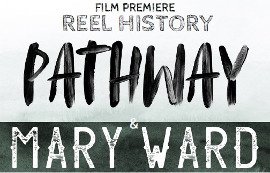 Dive to the Mary Ward shipwreck without getting your feet wet or traverse the edge of the Escarpment along the spiritual path to the Village of the Souls. Mary Ward and Pathway are the next films in the Craigleith Heritage Depot's film series REEL HISTORY.
Both films can be viewed in virtual reality, providing the viewer a unique experience each time they visit. On May 4, our film premiere will feature these new films in addition to the original REEL HISTORY films. Tickets are $25 each and funds raised at this event will be used to develop future local history documentaries.
The original three films will be shown first, to introduce the history behind The Apple Industry, Indigenous History, and the Ski Industry in The Blue Mountains. These films have been appreciated by audiences worldwide from Europe, North America, and throughout our region.
Marine Curator, Historian, and Folklorist Ian Bell will present a musical foray into the history of shipping around Georgian Bay, revealing what it would have been like for ships like the Mary Ward. Among his many accolades, Ian was nominated for a CFMA award for his album of traditional songs of the Great Lakes: Forget Me Not When Far Away.
Be the first to see behind the scenes of the making of the virtual reality films Mary Ward and Pathway. Then immerse yourself through the magic of the big screen, or through your own smart phone device, as a virtual experience.
Local historical organizations and partners will be on hand with exhibits before the show and during intermission to share their insights into our dynamic natural and cultural history. Come early and put yourself back in time with our green screen experience. Make sure you have a chance to use our virtual reality headsets to experience the new films.
The museum worked with local film company Mountain Goat Films for production, along with the support of the Blue Mountain Village Foundation. The museum appreciates the support of this night's event sponsor, Royal Lepage Locations North, for helping us bring the films to our community.
The doors open at 6 p.m. and the program starts at 7 p.m. Complimentary non-alcoholic refreshments and popcorn are available as well as a cash bar.