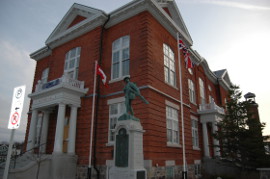 Summer is just around the corner and Meaford Hall has announced a hot summer line-up. From professional theatre to live music, Meaford Hall has something for everyone.
Professional theatre is back for another summer with three amazing shows. Kicking off the season in July is Alice's Restaurant, Hits & Stories of the '60s and '70s, created by Chris McHarge and Colin Stewart. Next is Same Time, Next Year , a story of two people, each happily married to someone else, who annually get together for a weekend over two decades, sharing their lives, dreams, hopes, and challenges. Ending the season is Dean & Jerry: What Might Have Been, a fabulous theatrical concert of timeless hits from the illustrious musical-comedy team— Dean Martin and Jerry Lewis.
On the stage the Hall will have performances from the Devin Cuddy Band, Beggars Road, the Trevor Mackenzie Band and much more. Check out the full line up on the website at www.meafordhall.ca.
Tickets on sale now online at www.meafordhall.ca, by phone at 1-877-538-0463, or by stopping by the Meaford Hall box office, open Monday to Friday 9 a.m. to 4:30 p.m.
And don't forget about Meaford Hall's Galleries, with exhibits from Paula Arciniega, Ted Kneblewski, and artists from Marsh St. Gallery.