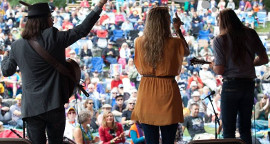 The Summerfolk Music and Crafts Festival is accepting submissions for a chance to play at a January showcase for the festival's Artistic Director.
It can be hard for new and lesser-known musical acts to get the attention of the people who can hire them but Summerfolk is working to reduce those barriers. Until December 26, acts from across Ontario can apply for a chance to play at a curated showcase on Sunday, January 20, at Heartwood Concert Hall in Owen Sound.
Ten applicants will be chosen and each group will get a 15 minute time slot in which to wow the audience and impress James Keelaghan, Summerfolk's Artistic Director. The festival piloted the idea in 2018, attracting musical submissions from across Grey and Bruce counties and beyond. There is no guarantee that showcasing musicians will be chosen for the festival but two of the acts who showcased in 2018 were hired.
"Our first event last year was such a success we knew we had to do it again," said Jon Farmer, a long-time Summerfolk volunteer and showcase co-organizer. "The energy was phenomenal and it was heartening to see so many people come out to hear local and folk music on a winter afternoon."
Organizers are making some small adjustments to the showcase this year. The 2018 event featured 12 acts over three hours and was free to attend. This year, only ten acts will be selected for the showcase to allow for an intermission. There will also be a pay-what-you-can entry fee with all profits being split between the performers.
According to Farmer, it is important for Summerfolk to support local and newer performers. "The best way for musicians to build an audience is to impress people but how can they do that if they aren't exposed to new listeners? That includes Artistic Directors and we're hoping that this event will help to open up new audiences for folks," Farmer said. The showcase will be recorded for Summerfolk's radio show Georgian Bay Roots as well.
Information about the application process can be found online at www.summerfolk.org and on the festival's Facebook page.