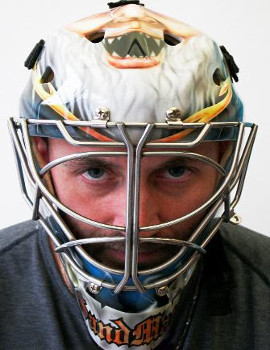 On Friday, December 7, from 6 – 9 p.m., join the staff and Advisory Committee of the Tom Thomson Art Gallery as they celebrate the opening of Saving Face: Art in Front of the Hockey Net. Doors will open at 6 p.m. with opening remarks beginning at 6:15.
Team members of Owen Sound's OHL team, the Attack, and mascot Cubby, will be on hand to meet and greet visitors. In the exhibition, visitors will find our Community Spirit Wall featuring goalie mask designs created by local children and their families. If you are interested in contributing to the Community Spirit Wall, please contact the Gallery. Light refreshments will be served throughout the event in our Community Engagement Studio. Admission to this event is free, all are welcome.
Saving Face: Art in Front of the Hockey Net honours and celebrates the art of the goalie mask. Teaming up with former NHL goaltender and hometown hockey hero Curtis Sanford, this exhibition features several painted goalie masks from Sanford's career, along with those of other professional players. Highlighted in the show are painted goalie masks and commercial models of masks through various stages of production, demonstrating the complexity of the airbrushing process.
The show highlights the cutting-edge work of leading industry professionals including Vince Goodeve, Gerald McLaughlin, and David Gunnarsson. The exhibition will feature a large-scale mural by local artist Billy Goodkat. This mural will allow visitors to immerse themselves into the universal goaltending experience of being the only thing standing between the puck and the net. The exhibition also features a large Community Spirit Wall showcasing the work of area youth (both in age, and at heart) who have designed their own goalie masks on paper.
The Gallery gratefully acknowledges the generous support from operational funders, sponsors, members, and donors it has received to make this large community-focused exhibition possible. Thank you to the Gallery's Presenting Exhibition Sponsor McArthur Tire, the Gallery's Community Partners and Exhibition Supporters including the Owen Sound Attack, Sunbelt Rentals, Cobble Beach, Voodoo Airbrushing, Vince Goodeve Studios, Billy Goodkat, and Have1.com. Thanks to all goalie mask lenders of the exhibition, including Geoff Couture, Vince Goodeve, Gary Kurt, Curtis Sanford, Steve Silverthorn, and Gerald McLaughlin.
More on Curtis Sanford: Curtis Sanford is a Canadian former professional ice hockey goaltender, who last played for Lokomotiv Yaroslavl of the Kontinental Hockey League. He previously played in the National Hockey League (NHL) with the St. Louis Blues, Vancouver Canucks, and Columbus Blue Jackets. Born in Owen Sound, Sanford got his start playing hockey for the Wiarton Wolves and the Owen Sound Platers. Retired from playing professionally, Sanford now lives in Grey County and remains actively involved in the world of hockey both at home and across North America.
More on Billy Goodkat: Billy Goodkat is a mural and graffiti artist, living and working in Owen Sound. His personal practice reflects his interest in spray painting, as well as his interest in teaching, collaborating and making urban street art relevant, engaging, and accessible within the Grey and Bruce community. He has completed dozens of murals for local businesses, community groups and individuals, ranging in scale and size. He has led several groups of local students and adults in community art projects and now teaches a series of Art Nights in Owen Sound.
Admission to The TOM is free or by donation and more information about the Gallery's hours, collection, programs and events can be found at www.tomthomson.org. The Gallery gratefully acknowledges its major funders, major sponsors, partners, members, and donors.
The Tom Thomson Art Gallery is located at 840 1st Avenue West, Owen Sound.