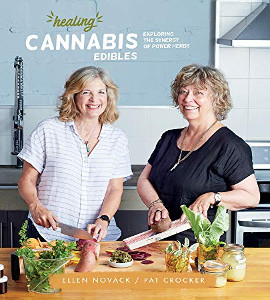 Award-winning local culinary herbalist and author Pat Crocker will be at The Ginger Press in Owen Sound at 1 p.m. on Saturday, November 17 to sign copies of her newest book, Healing Cannabis Edibles: Exploring the Synergy of Power Herbs ($27.95).
Including reliable and current information on strains and ratios of THC and CBD as well as information on using power herbs for specific health conditions including anxiety, epilepsy, inflammation, and pain, this new book guides readers to experiment safely and cautiously to discover if and how cannabis best serves them.
Pat will also conduct an intensive workshop on Healing Cannabis Edibles from 2 – 5 p.m. Registrants will learn the basic information about healing benefits, decarboxylation, dosing, making infusions, and cooking with infused oils and other forms of cannabis.
Samples and a copy of the book will be included. Pre-registration ($175) is required at 519-376-4233.