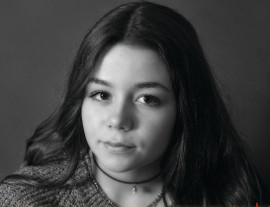 Fourteen-year-old Meaford musician Emma Wright will take the stage on August 11 in front of thousands of people at the second largest country music festival in North America, Boots and Hearts.
Wright is a well-known Meaford youth who has been performing on stages across Ontario since the age of five.
Wright entered the Emerging Artists Showcase and made her way to the top 11 finalists among a group of exceptional musicians. Her success in that showcase landed her a performance at the 2017 Royal Winter Fair's Boots and Hearts stage, and helped secure her spot in the upcoming August festival, held annually at Burl's Creek near Barrie.
Since its inception in 2012, Boots and Hearts has quickly grown to become Canada's largest country music festival. The festival offers multiple stages, meet and greets, VIP offerings, an on-site farmers' market, and attracts more than 45,000 festival-goers over the course of four days.
Wright is extremely proud to be following in the footsteps of many world-renowned artists who have performed at the festival, including Carrie Underwood, Luke Bryan, Blake Shelton, Toby Keith, Jason Aldean, Miranda Lambert, Tim McGraw, Rascal Flatts, Brad Paisley, Eric Church, Florida Georgia Line, and many other country music stars.
Despite her young years, Wright has the presence of a well-seasoned performer. She has a crystal clear voice, a vocal range that belies her size, and an up-beat energy that never fails to bring crowds to their feet. Wright hand-picked her band from musicians she has collaborated with in the past, and each brings great skills to the band. Rob Elder is a well-known singer-songwriter and multi-instrumentalist; Mike Weir, based in Owen Sound, is also a multi-instrumentalist who has spent years touring and recording in many different musical styles and genres; John Hume, another Meaford local, is a stellar keyboard player who brings Wright's songs to the next level; and lastly, Jaret Koop, new to Owen Sound, who is already making a mark with his amazing skills on the bass guitar.
Most recently Wright played with her band at the Heartwood Concert Hall in Owen Sound to a packed room and standing ovations. She has also been working closely with Chris Scerri of Meaford, who has been keeping Emma busy with bookings and has several shows after Boots and Hearts; The Salmon Derby in Owen Sound, The Last Waltz at Blue Mountain, and The Summer Concert Series in Meaford.
Wright has been working with Eric Emerson, a songwriter from Belleville, and Bob Morrison from Nashville, and together they have recently released four new singles, available on iTunes, AppleMusic, Spotify, and on Wright's website: www.emmawright.net. Two of these songs will be featured at Boots and Hearts on August 11. For the Boots and Hearts Festival line-ups or ticket info go to www.bootsandhearts.com.
Emma is thankful for the support of her family, friends and community. She is also very thankful for the generous support of many local organizations: the Meaford Lion's Club, the Rotary Club of Meaford, and the Meaford Culture Foundation.