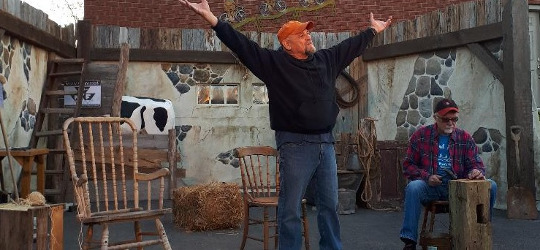 Rehearsals are in full swing for the Meaford Community Theatre's presentation of He Won't Come In From The Barn, an agricultural comedy by Ted Johns, sure to appeal to the southern Georgian Bay audience.
Join Aylmer, an independent farmer who dares to take a stand against commercialism and modernization. This is a touching and humourous look at one man's struggle with the future of farming.
He Won't Come in From The Barn can be seen on June 5, 7 p.m. at Bognor Community Hall; June 8 and 9, 7 p.m., and June 10, 2 p.m. at Marsh Street Centre, Clarksburg; June 15 and 16, 7 p.m. at Grandma Lambe's Barn, Meaford. Tickets are $20, available at Bognor Post Office, Many Hands of Meaford, Stuff to Read, Grandma Lambe's store, Thornbury Pharmasave, Marsh Street Centre, and at the door.