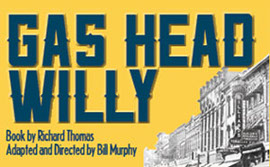 Meaford Hall and the Roxy Theatre are teaming up to bring you Bill Murphy's adaptation of Richard Thomas's 1995 novel Gas Head Willy, on Friday, May 11 at Meaford Hall. This radio-style broadcast will allow the audience members to be taken on a wild ride through familiar places like Meaford, Owen Sound, Balaclava, the Bognor Marsh and more during the prohibition and bootlegger era in Grey County.
Gas Head Willy was Thomas's first novel, written during the Novel Marathon for Literacy event at the Owen Sound Library and later published by the Ginger Press in 1996. Loaded with Owen Sound history, local businesses, characters, and locations, Gas Head Willy brings Grey County to life.
"This is a broadcast you don't want to miss, with the use of onstage Foley Artists creating non-stop sound effects," said the Hall.
For more information or to purchase tickets visit www.meafordhall.ca or call 1-877-538-0463.