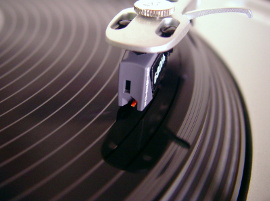 The monthly Bring Your Own Vinyl Night at The Red Door on Sykes Street in Meaford has become so successful that it's moving this month to Kimberley Hall and turning the listening party into a dance party.
Initiated last year by Tom Thwaits, keyboard player for Bored of Education, the idea of BYOV is that people bring in their favourite records. They introduce the track they want to play and Tom spins it on the turntable.
The chance to pull out the vinyl to share has found an appreciative audience that's a mix of baby boomers and young music lovers who have become hooked on vinyl. It results in a very eclectic mix of music as fans bring up their favourites, covering every conceivable genre. At Christmas and Hallowe'en Tom had themed nights. Each time he prepares a list of trivia questions about music, with prizes for the winners. The evening becomes as much about the stories as the music.
The monthly event is supported by a Facebook page on which members post comments about specific bands and even offer audiophile tips.
The BYOV night at The Red Door has always been free, but to cover the cost of Kimberley Hall, there is a $5 ticket for Saturday's dance party. Tom has announced that "due to unprecedented demand, advance tickets for the BYOV Dance Party are on sale exclusively at the Kimberley General Store."
Kimberley Hall is located at 235309 Grey Rd 13 in the little hamlet of Kimberley, south of Meaford. Doors open at 8 p.m. on Saturday, February 24, with a $5 cover charge. Bring your favourite dance tune on vinyl.