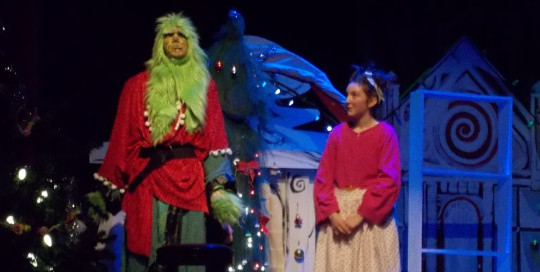 It's been years since I went to a community play. The son of good friends of ours just moved to Meaford a couple of weeks ago, and Charlie and his partner Jenn's three kids gave me the oomph to see The Grinch, presented by The Kids in the Meaford Hall. And, wow, it was so much fun.
The Grinch (Franz Greenfield) was over-the-top perfect in his fuzzy green costume. His grinchly flair and exaggeration made the play. Most school plays have kids new to the stage who are reserved and conscious of the audience. Not this Grinch! He enjoyed his inner green-ness and brought it front and centre for all of us to grimace at!
Max the dog was played by Alex McNally, and I very much enjoyed his performance. I would think it would be hard to play a dog (besides barking), but Alex did a great job, with excellent comic timing and very funny moments. Max and the Grinch had great chemistry, and it looked like they both had a lot of fun performing together.
Another stand-out performer was Misha Greenfield as Cindy Lou Who, the only Who who dared to help the Grinch grow his heart and feelings so that he was no longer miserable. Misha was perfect as little Cindy Lou, going against the Mayor (also well played by Heather Braeker) with warmth and gutsiness.
A play like The Grinch is great, but what lifted this play out of the ordinary was the costumes by Rhonda Emerson, a former art teacher. David Baker (the president of Kids in the Meaford Hall) refers to her as their 'costume guru', and that's the best way to describe her. Rhonda has made over 200 costumes for the Kids in The Meaford Hall productions over the last eight years, and these were wonderful. Whether it was the green Grinch, the Christmas tree disguised as Cindy Lou's mum (or was it the other way around?), or Cindy Lou's pink tutu, they were imaginative, bright and colourful, and most of all, fun! And an inside tip – Rhonda told me that some of the costumes were very hot, and Max the dog (in his brown fuzzy onesie, with a floppy ears hoodie) in particular needed cooling off with icepacks in a belt.
Kids in The Meaford Hall is a non-profit community theatre group which presents a play at the beginning of each Christmas season, with free performances for over 1,000 kids from the municipality. The actors and production crew are all volunteers who work many hours on each production, to help the kids in our community enjoy the fun and excitement of live theatre.
Even though I don't have school-age kids myself, Charlie and Jenn's kids reminded me of how kids can open their hearts and minds to what they see on a stage – a much more personal and interactive experience for them than just watching a TV or movie screen.
If you haven't been picking up our print edition, you've been missing articles like this one which was included in our December 15 issue. Our print editions always include articles that are not published online. Subscribe today and support truly local independent media!