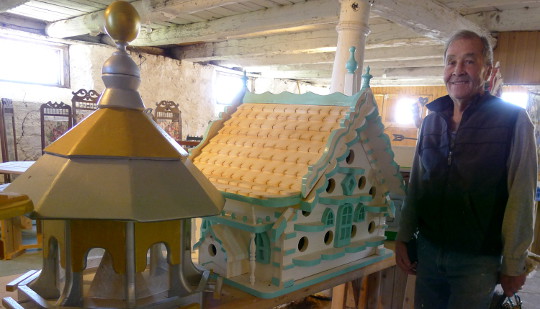 Driving out and about on a beautiful spring (finally!) day, Earl and I were on our way back to Meaford with some plants for the garden when we passed one of my favourite spots in the municipality. And oh boy, the Open sign was out!
When Manuel (Manny) and Diane Rocha moved to the Meaford area, Manny wasn't quite sure how to keep busy. They had bought a farm, but Manny didn't know anything about farming. Someone suggested that he try woodworking, and before long Manny had converted one of the farm buildings to a workshop. And then – his imagination took over.
Bright colours as well as quirky designs make his 'bird castles and cottages' unique, and just to have one would cheer up any bird's day, not to mention their human's. The bird houses are also easy to clean, with a special front opening that allows quick access, and the entry holes are available in different sizes depending on the birds in your area.
A number of years ago, I asked if he made bat houses, as I wanted to give my sister Monika one as a Christmas gift. He didn't at the time, but very kindly made one for me, which she loved. With the easy front opening, he said that it would be a snap to check on the bats during the day, as they'd all be hanging from their little pegs, sleeping. Thanks for that information, but I'll leave that to my sister!
In addition to the bird castles, he also makes bat and butterfly houses, mailboxes, custom arbours, screen doors, architectural trim, and other custom woodwork. The bat houses start at $89, and the castles go all the way up to $1,000, depending on the size and detail. Driving by, there might be the selection on the cart by the mailbox, but the real gems are in the big barn, where Manny keeps the stars of his creativity.
Whimsical birdhouses of all colours, shapes and sizes, feeders, bat and butterfly houses, as well bird cages – there's a cheerful playhouse for any little outdoor winged friends.
How to find them:
Greycedars Woodworking
104457 Grey Rd. 18, Bognor
519-376-5060
Open by appointment or by chance