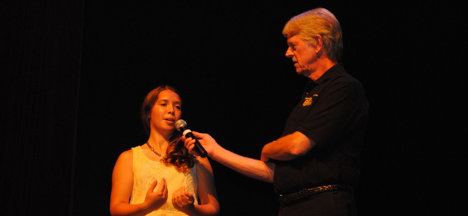 The Meaford International Film Festival will be awash with local talent from opening night to the closing gala as short features produced by area students precede each award winning feature.
"It's always a thrill for us to be able to showcase our students," says Meaford Hall and Culture Foundation Chair Rod MacAlpine, "Aand the audience really enjoys watching them on stage talking about their work."
Leading off on August 28 on the Festival's opening night is Alexandra McLaughlin, making her second appearance at MIFF, with her film "Honest Corporate Advertising." It won this years' senior prize at the 2014 Grey Bruce Youth Film Festival (GBYFF). Originally from Kimberly, Alexandra also took the prize for "Best Grade 11 Film" at the Etobicoke School of the Arts this year. Alexandra's short film will be screened immediately prior to the feature film on August 28: "The Selfish Giant", which is the story of two poor young boys in Yorkshire England who seek love and respect, no matter what the cost.
Showing on Friday, August 29 is "My Family Farm" by Erica Gulliver; a very personal essay about her grandmother and the Meaford area property that she loved. When sickness and the prospect of having to sell the farm loomed, Erica knew it was time to document and preserve the memories and values she had grown up with. The feature documentary that follows also focuses on preserving the past, but with a twist. "Finding Vivian Maier" unravels the mystery America's premier street photographer who kept her work hidden from the public.
Saturday, August 30, before the bluegrass music and drama of "The Broken Circle Breakdown", viewers will be immersed in the mad cap chase scenes that become part of "The Planning Process" by Lydia and Annika Dyck. In addition to putting on plays for the neighbourhood, the 14 & 16 year old girls from Durham, ON, have been filming stories for Vacation Bible School in Hanover for 3 years.
Adrian Wagenaar of the Township of Georgian Bluffs rounds out the MIFF student line up on the last day of the festival, with an animated feature titled "Colours" showing on August 31. The 13 year old won the Junior category at the GBYFF this year, and it all started with a game called "The Stanley Parable." Adrian will tell artistic director Christopher Thomas more when he takes to the MIFF stage just before the closing gala feature "The Lunchbox". Set in India, it's an endearing story about love and the complicated consequences of a simple mistake.
MIFF tickets are selling fast! The balcony seats for all four evening shows were recently opened as the floor seats are almost sold out. For more information on the films, tickets, parties, prizes and pre show MIFF Meals call 1-877-538-0463 or go to the website meafordfilmfest.ca