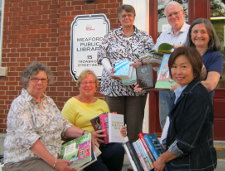 There is no doubt that volunteer spirit is strong in Meaford. Often one or two individuals take the lead and those of us who are privileged to live here benefit from all their efforts.
That's not the case for one group in town, which has quietly gone about their business for more than 20 years. That group is the Friends of the Meaford Library (FOML), who have recently won a national award in recognition of their fundraising efforts and community support.
Winning the Gabrielle Schreiber 2014 Award from Friends of Canadian Libraries (FOCAL) has truly been a group effort.
"Over 200 volunteers have given of their time and skills over the years and many in the community have donated or purchased books at the Net Shed, attended or performed at our summer Sunday concert series or contributed to other fundraising events. We invite all our volunteers, past and present, to join us on August 21st at the Municipality of Meaford Volunteer Appreciation Event, where our mayor will formally present this award during speeches at 5:45 pm at the Harbour Pavilion. We will have a canopied area where you are invited to sign in to receive a token of our appreciation, view historical mementos of our activities over the years and share your stories. Our aim remains the same: to enhance and support the extension and improvement of the services and resources of the Meaford Public Library. Thank you to our volunteers and our community!" said the FOML of the award.
Photo: Current Friends Executive surrounded by $750 in Random House books, a prize received along with the Gabrielle Schreiber Award. From left to right: Jane Leckenby, Kathy Christie, Elaine Burns, Paul Wehrle, Gillian Bigl and Deborah Ise.